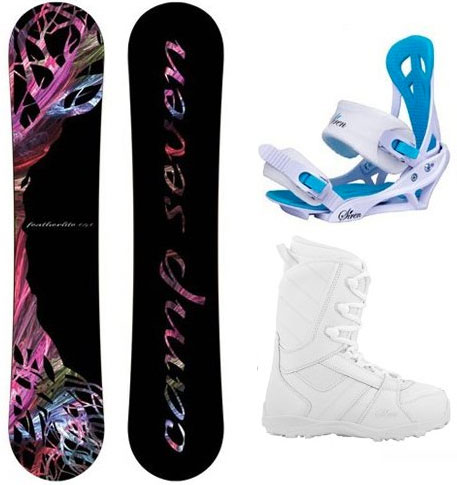 Camp Seven Women's Snowboard Package
You can get the Camp Seven Featherlite Women's Complete Snowboard Package right now, and pay less than $300. It includes everything: snowboard, bindings and boots. It's a great deal, especially for brand new 2017 gear.
Since this package features brand new equipment, you can choose from 4 different snowboard sizes (138cm, 144cm, 147cm and 150cm). Unlike other end-of-year deals that offer limited size options, this one allows you to get the perfect size equipment for the best fit.
Let's go over the gear:
Camp Seven Featherlite Snowboard
As the name suggests, the Featherlite board is lightweight yet strong. This feature minimizes the effort it takes to move the board, and it helps with performance as well.
Whether you are new to snowboarding or simply want to get down the slopes with less effort, this board provides advantages for each. The rocker structure helps prevent riders from catching an edge. That said, the edges can still "grab" snow to make turns easier.
The Featherlite combines both rocker and camber styling to create a snowboard that is easily maneuverable and has better float on powder. You also get better pop when doing jumps and spins. Snowboarders who spend more time in terrain parks or who want to learn new tricks look for these features in a board.
Lastly, and without getting too technical, a third stringer runs down the center of the snowboard. It helps to absorb the vibration from bumps and uneven terrain, which provides for a more smooth and enjoyable ride.
Siren Mystic Snowboard Bindings
The Siren Mystic bindings are women-specific. Designed for smaller and narrower feet, they provide more comfort to the female foot and fit better with women's boots as well. In short, the more comfortable you are on the slopes, the better you will ride.
Siren Lux Women's Snowboard Boots
The Siren Lux boot has your basic design with a special feature. The company has added a gel patch on the back of the boot to alleviate stress points from highbacks.
Again, comfort is key. At the same time, using basic styling helps keep the cost down for you.